[ad_1]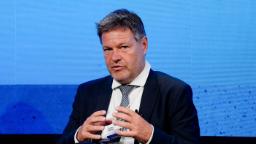 "We have seen the worst of Europe [in] that only some states are blocking the development," Robert Habeck, Germany's economy minister, told a panel at the World Economic Forum in Davos, Switzerland.
Habeck acknowledged that each EU country's
reliance on Russian crude
was different, and that accommodations would have to be made. He said he expected Hungary to receive "special exceptions" in a forthcoming oil embargo.
"But, saying that, I expect everyone — also Hungary — that they work to find a solution and not saying 'OK we have an exception and then we will lay back and build on our partnership with Putin'," he said at the meeting.
On Monday, Ukrainian President Volodymyr Zelensky urged countries to impose "maximum" sanctions against Russia for its invasion of his country, including a full oil embargo.
In a video address to the forum, he added that "the international community must be ready to use sanctions preventively, not to just respond" to future threats.
But some eastern European countries — including Hungary, Slovakia and the Czech Republic — are particularly reliant on Russian oil delivered via pipelines, and have few immediate alternatives. In early May, Zoltan Kovacs, a spokesperson for Hungarian Prime Minister Viktor Orban, said the bloc had offered his country an extra year to wean itself off Russia's oil, but it has argued for more time.
"The shortest period, we've been clear on that, our oil companies have been clear on that, is three to five years," Kovacs told CNN's Eleni Giokos.
According to the International Energy Agency, about 40% of Hungary's imported oil came from Russia last year.
A full European embargo on Russian gas would be even harder to achieve than one targeting oil. About 45% of Europe's gas imports came from Russia in 2021, according to the IEA.
[ad_2]

Source link