[ad_1]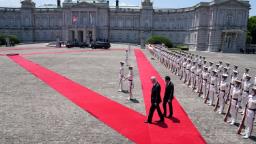 During his opening remarks at the start of the Quad summit, US President Joe Biden condemned Russia's invasion of Ukraine and reiterated the US' support for Kyiv.  
"We're navigating a dark hour in our shared history," Biden said, as he sat facing the leaders of India, Australia, and Japan. 
"The Russian brutal and unprovoked war against Ukraine has triggered a humanitarian catastrophe. And the innocent civilians have been killed in the streets and millions of refugees are internally displaced, as well as exiled. And this is more than just a European issue, it's a global issue," he said. 
Biden warned that Russian President Vladimir Putin is "trying to extinguish a culture," pointing to Russia's targeting of Ukrainian schools, churches, and museums. 
The US will continue its work with partners to "lead a global response," he said, adding that Russia's invasion "only heightens the importance" of the Quad's goals and shared values. 
Trying to win over India: Biden's comments come as the White House has said the President intends to speak during the summit with Indian Prime Minister Narendra Modi —  who has resisted US pressure to punish Russia — about how to strengthen US-India ties, a suggestion he hopes to wean Delhi off its reliance on Russian arms.
India is the only Quad member that has not condemned the invasion or imposed sanctions on Moscow. The two countries have long shared friendly relations, with India reliant on Russian-made weapons.
[ad_2]

Source link